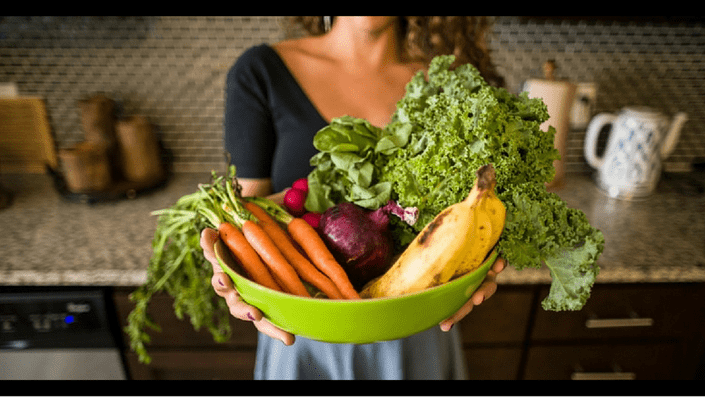 12-Days to Sexy
A whole food cleanse program for the body mind and soul.
Want more ENERGY & VITALITY
to do the things you love?
12-Days to Sexy is your step-by-step whole food plan to help you look & feel your absolute best- in 12 days or less!
You know the days when you feel strong, sexy, and confident in your body?
Maybe after an amazing yoga class, a long run, or a full day of whole and unprocessed foods. Those moments when you feel free, connected, expressed, and energized – the way you want to feel every day.
Unfortunately for most of us, that feeling doesn't stick around for long. It's easy succumb to stress or fatigue, and reach for the nearest easy (but not-so-healthy) snack.
And understandably so...
You're busy. You have a career. Family. Passions. People who rely on you.
And many times, your health comes 2nd to all your other responsibilities.
Since you're on this page, I'm guessing you...
Are sick of diet plans, and want something that supports you holistically
Crave more energy and vitality to move through your days
Are busy and need a simple, and do-able approach to wellness that compliments your on-the-go lifestyle
Aren't in the habit of

putting yourself first
So you need something do-able… simple… straight-forward… and most importantly, sustainable.
A recent study by US Health News said that 95% of people fail diets.
But what if it was actually the reverse?
What if it was the diets that failed the people?
Going on a diet is a fairly new concept and that quite frankly, isn't serving most people. Diets feel restrictive, they feel limiting, constraining, and give everything a label of "right" and "wrong."
And I know that doesn't work for you...
I know this, because it was my story too.
In 2005 I found myself in the midst of a total body breakdown. The extra weight, the acne, the destructive relationship I had with food, all kept me feeling like my body was a jail cell – and there was no option of transferring.
"Man, other people are so lucky," I would think to myself. "They got the good genes, the flat stomach, and the clear skin. They're the lucky ones."
At the time, health to me equated to:
Counting calories & points

Measuring food

Eating low-fat
I felt deprived, pretty neurotic, and above all else, I was hungry!
I was following all the "rules" correctly, but my body wasn't nourished, and what I was doing clearly was not working for me.
Still, I constantly got down on myself for not doing it "right" or for not being dedicated enough.
Can you relate?
How I got unstuck (and you can too):
It all started with the realization that maybe it was the dietary plans I was choosing that weren't working for me – not the other way around.
So I turned to various "non-diet" eating plans to try and heal my metabolism and get back to health.
Vegan, raw, HCG, cabbage soup diet, hi-carb, low-carb, you name it, I tried it.
And while I saw some results – a few pounds lost, a slight increase in energy – most of my symptoms and extra weight persisted.
It wasn't until I finally and completely ditched ALL the labels and food stigma, that my life powerfully changed.
I began looking to nature to guide my food choices.
Good old-fashioned meat, local fruits and vegetables, and more fat than I ever thought was "safe" to eat. I feasted on chicken, beef, coconut, raw dairy, eggs (yolk and all ::gasp!::), avocado, and grass-fed butter.
The effects were instant.
While my mind was having an internal battle about this shift of eating meat again (and not the pre-packaged low calorie food I was used to), my body was reacting more powerfully than anything I'd experienced.
Within 2 days, I felt strong and grounded in a way I hadn't felt in many years. I felt like all the energy that seemed to be in a constant swirl around my head began flowing evenly throughout my body. My head was clear and alert.
This powerful experience helped me understand that my body can only perform based off thequality of food I choose to fuel it with.
I lost 25 pounds, cleared my cystic acne, healed a broken relationship with my body, and most importantly – stepped into my power as a woman and leader.
I discovered a way to live & eat so I would NEVER ever have to diet again… and 7 years later, I still haven't!
2007 (photo on the left) - My "healthy" low-fat diet
2015 (photo on the right) - A whole foods diet based on traditional foods.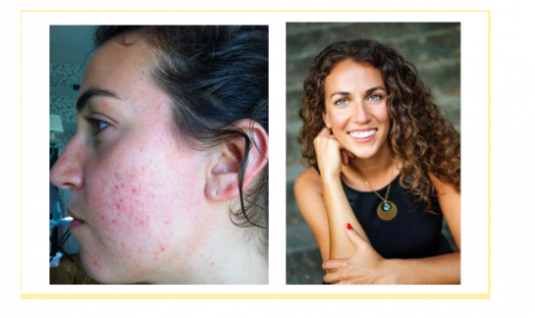 Introducing 12-Days to Sexy
12-Days to Sexy is everything I wish I had during my own journey back to vibrant health.
It's a cleanse program, yes, but it's also a community and a lifestyledesigned to support you to be the absolute best version of yourself.
Hundreds of women from around the world have now participated in this program, with phenomenal results...
"Thanks to 12-Days to Sexy I have reset my relationship with food, seeing it not as a solution to boredom or an emotional crutch, but a loving ritual that fuels my body.
This program does more than suggest meal plans and teach you about nutrition, it gives you practical tools to feed yourself in all aspects of your life."
Camille Willemain - Travel & Wellness Blogger at This American Girl
"I got so much more from it than I ever thought I would. I was hopeful, but figured, if nothing else it would be an interesting experience. I didn't expect it to completely change my outlook on food, health, & wellness."
Here's WHY this program works:
No dietary dogma, no stigmas, no rigid rules.
Instead, you'll enjoy morning affirmations, daily meal plans, and evening affirmations to support and fuel your body, mind, and spirit from the moment you wake until you go to sleep at night.
And most importantly, you will be guided, supported, and loved within a sweet and dedicated group of like-minded individuals. I develop friendships with each and every participant and welcome you with open arms into our real food and mindful living community.
I know you don't want yet another task you have to take on by yourself, which is why you access to a private members-only Facebook group with others who currently are enrolled or have already completed this program. This is the place to share your journey, your struggles, your victories, and gain inspiration.
If you are ready for an approach that feels more sustainable and less label-driven and cliche, you are in the right place. If you want to feel good and enroll in a lifestyle that works, welcome home.
What you will gain in this program:
More energy to be present for your children, family, and life
A loving and strong relationship with your body (so instead of feeling "heavy, tired, and yucky" you feel strong, sexy, and confident)
A deep rooted sense of confidence and joy knowing you have made a powerful commitment to your health
Fitting into your skinny jeans with ease – NOT through restriction
The exact tools to understand what to eat and why
How to make quick and easy healthy meals when you're short on time
Body, mind, spirit alignment to inspire and ignite a sense of connection in your life
This is NOT a program where you live only on green juice, or go long lengths of time without food.
The 12-Days to Sexy menu consists of whole, real, organic foods, including 3 meals per day, and a list of healthy and delicious snacks if needed.
By flooding your body consistently with real food nutrients, you will cleanse your entire system resulting in huge increases in energy and vitality.
"Confession: ever since your cleanse, Carly, I now drink a green smoothie almost every day. I found out that I have a slight dairy allergy, thanks to deciding to notice what I put in my body and how it makes me feel.
I haven't been sick in almost 2 years, ever since I decided to simply eat clean! You are a total inspiration, and I thank you for it!"
Daniela Desuta - Wine Educator at The Vineyard at Florence
What's included...
12-Day Meal Plan: Located in a members-only password protected website with real food meal plans & recipes for each of the 12 days.
Shopping List: The ultimate grocery list that makes buying your new healthy food easy, fun, and simple. The list is broken down into Days 1-6 & Days 7-12.
Daily Meditation Videos: A daily meditation & lesson of the day each morning to start your day with intention and focus.
Likeminded-Community of Health Seekers: Access to the 12-Days to Sexy members-only Facebook group. This is where you can chat with other cleansers, post photos, ask questions, or simply reach out for support.
Health Coaching Support: Email accountability from your Health Coach, Carly, during your 12-day journey. I usually charge $100/hour for my coaching, however, you will have FREE access to me for any questions throughout these 12-days (included in the cost of the program).
Lesson of the Day: A lesson of the day pertaining to real food & mindful living so you know the WHY behind each step of the cleanse process.
Lifetime Access: Once you purchase, you have lifetime access to this program. The content is always available in the members-only page and you are welcome to take part in this program again whenever you desire.
What the program looks like...

All program content is housed on a password-protected online school called Teachable – this is where you can find your grocery lists, daily videos, meal plans, and all program content.
Once you register to participate, you will set-up a username and password to access your online school where all the program content is ready and waiting for you. Then, it's up to you to get started whenever works best for your schedule!
Group support and conversation will take place in the members-only Facebook group. You'll have lifetime access to this group, so you can come back and take the program as many times as you like, for FREE, forever.
If you're still here, it means you're ready.
A motto that I live by in my own life is, "buy the ticket."
Think about when you want to go on a trip… When you actually go ahead and buy the ticket, it's now confirmed that you are going, and everything else begins to fall into place.
Essentially, "buying the ticket" means to say "yes" to anything that calls at your heart. So I encourage you to buy the ticket, and make this dedication to your life & health.
NOW is always the best time to get started.
I know that if you commit to joining this program, your days of struggle and confusion around food will come to an end.
Not only do I know it, but I guarantee it.
I believe in the value and transformational powers of this program so much that all you have to do is TRY it, and if you're not 100% satisfied with the results, I will give you a full refund.
I propose that today be the very last day of you feeling crappy, tired, uninspired, and uncomfortable in your body.
If any of this calls to you and has you saying, "yes, I want some of that!" then click enroll below to join us.
I can't wait to support you on this journey!
Lots of love,
Carly
P.S. By signing up for this program you have the option to become an affiliate of 12-Days to Sexy, earning 50% commission on anyone you refer.
Think of it this way, share it with just two people and your program is paid for. You deserve it all.
Your Coach
Program Curriculum
START HERE (Introduction & Welcome)
Available in days
days after you enroll
PROGRAM RESOURCES
Available in days
days after you enroll
DAY 1. KNOW YOUR POWER
Available in days
days after you enroll
Frequently Asked Questions
How long do I have access to the course?
How does lifetime access sound? After enrolling, you have unlimited access to this course for as long as you like - across any and all devices you own.
What if I am unhappy with the course?
We would never want you to be unhappy! If you are unsatisfied with your purchase, contact us in the first 30 days and we will give you a full refund.